Collingwood coach, Nathan Buckley, attributes their success to taking a strengths based approach

Collingwood coach, Nathan Buckley, attributes their success to taking a strengths based approach
For those of you not in Victoria, it's 'Footy Grand Final Week' here in Open Door's home state and this weekend the Collingwood Magpies take on the West Coast Eagles. This is significant for two reasons:
1. Natalie has to find her Magpies beanie and scarf and it's not been seen for…well a long time. Yes, definitely 'coming out of the wood work' as a Magpie supporter this week!!!
2. Collingwood Coach, Nathan Buckley attributes their success to taking a strengths-based philosophy to working with the team.
What we, and Open Door clients have known for many years now, is that taking a strengths-based approach to working with teams achieves a significant increase in individual and team performance.
Buckley quoted in the Herald Sun on the weekend said "For me, my contribution to the adjustment [changes needed at the Club to become successful] came two or three years ago and has progressed since. That's to look at the 95 per cent that's working well and not the 5 per cent you want to fix. You get more improvement by actually focussing on your strengths and reminding everyone about what we're doing well. That's been a real club focus this season".
Buckley describes how a focus on strengths has been 'a fairly difficult journey' as he transitioned from chasing marginal incremental improvements but the turn around in terms of results speak for themselves when we look at the finishing position on the ladder for the Club: the Club finished between 11th, 12th or 13th position (out of 18 teams) over the past 4 seasons, finishing this season in 3rd position.
This weekend we will see whether his approach, built up over a number of years, can lead to the ultimate measurement of success for a football club – winning the Grand Final flag. Some members of the Open Door team are hoping so, for the above two reasons!
The full article is attached below.
Learn to lead with Strengths
Learn to use the Strengthscope suite of tools to bring out the best in your team by focussing on their strengths. Take a look at our accreditation programs below.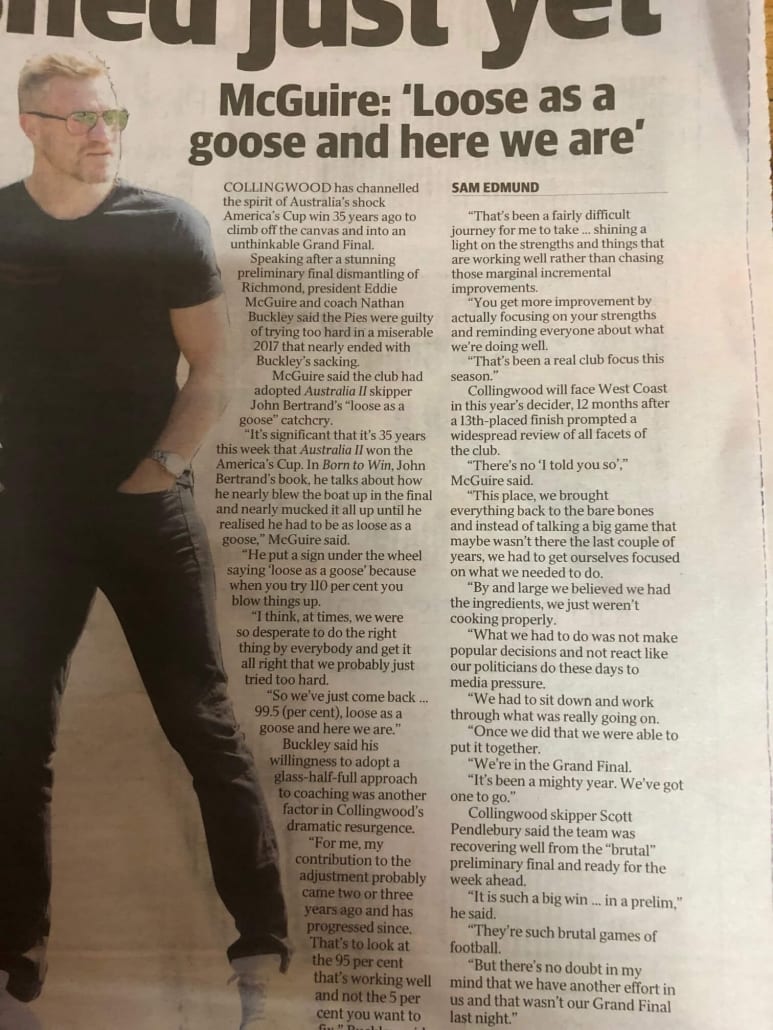 https://opendoorcoaching.com.au/wp-content/uploads/2018/09/Collingwood-coach-Nathan-Buckley-a.jpg
2016
1512
Nick McEwan-Hall
https://opendoorcoaching.com.au/wp-content/uploads/2019/12/Open_Door_Coaching.jpg
Nick McEwan-Hall
2018-09-24 05:54:29
2021-05-05 19:43:42
Collingwood coach, Nathan Buckley, attributes their success to taking a strengths based approach