During Coaching Café this week we continue the momentum of focussing on the top 10 practices of the world's best coaches from What Makes a Great Coach?
Listen to the Coaching Cafe podcasts
Curiosity doesn't come easy for some managers
As coaches, we know that curiosity is built into everything we do.
Furthermore, many of us are coaching managers in the workplace to be curious. Especially, to ask questions when a team member presents a problem. Rather than jumping in and solving the problem straight away.
But as we discovered, for many people curiosity doesn't come easily. Indeed, it is something that we have to practice.
It requires us to suspend judgement. To let go of being the instant subject matter expert. And to 'hold the space' or pause. So that the person we are talking to engages their own thinking. Becomes curious themselves.  To really exercise the skills of leader as coach. Rather than just managing the situation. And directing and telling a person what to do, because it's efficient.
The benefits of curiosity in the workplace
Emma says that all her life she marvelled at the tennis great. Wondering 'how did they do that?'  What a wonderful coaching question. One that has great application to the workplace.
Importantly, there are so many benefits to encouraging curiosity in the workplace.
It is through our curiosity that we can solve problems. And make the incremental improvements that are needed to maximise our potential. Not only that, but we can also instil that curiosity in our team members. To assist them to solve problems, in practice and in the critical moments, for example when they're making decisions.
If a manager is always directing, telling, and instructing their team members. They miss the opportunity to breed an environment of curiosity. And it is this environment
that leads to the breakthrough improvements that build high performance in a team.
Practicing curiosity
What Makes a Great Coach? gives us the opportunity to reflect on our own coaching practices.  In the Coaching Café where we share the research and stories around curiosity from the book.  And most importantly key questions that we can all use to reflect on how we bring curiosity to our coaching practice.   Perhaps you might like to reflect on your own questions.
What questions create a culture of curiosity in the workplace?

How do we spark curiosity in others?

How can we refine our own practice of curiosity?
Finally we leave you with this thought. Emma interviewed Ric Charlesworth, former coach of the Australian men's field hockey team, the Hockeyroos. On the topic of curiosity, Ric said, 'As a coach, curiosity means that we need to be continuously searching and looking for the edge. It is our job to spark that in our players.'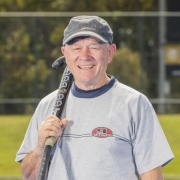 Ric Charlesworth
Open Door Coaching
Have you got your copy?
And it's official! What Makes a Great Coach? has hit Amazon #1 Best Seller in multiple categories Australia. We are so grateful for your support, messages and for helping us celebrate.  Buy now or contact us if you want multiple copies and to access the special offers.
FREE Coaching Cafe Webinar
Every week our team of experts present "Coaching Cafe" webinar with topics for Managers, Leaders, Business Owners, and everyone who wants to be a better workplace coach, leading their teams to higher productivity, better outcomes and a happier, healthier workplace.
Join us this Friday for FREE.   Register now.