What makes a great coach? Energy
How many coffees have you had?
During Coaching Café this week we continue the momentum of focussing on the top 10 practices of the world's best coaches from What Makes a Great Coach?
Listen to the Coaching Cafe podcasts
Imagine, it's 7:00am and super coach Emma Doyle is about to present to Virgin Australia's Platinum Frequent Flyer customers. Along with former WTA World No.1 Maria Sharapova.  Emma is ready to go. And she is warmly greeting Maria and the crowd. However, just before they begin, Maria says:
'I love your energy. How many coffees have you had already?' 
Engagement in the workplace
There's been quite a lot of discussion recently about how to engage and energise people in the workplace.  Particularly in response to the 'quiet quitting' phenomenon.  In addition, we've heard that managers are frustrated. Particularly now the return to the office is supposed to be happening, and it's not happening.   Research suggests engagement in the workplace has been decreasing.
As coaches and facilitators, we are focussed on bringing our energy to a session. Without the need for copious cups of coffee! And as Emma shares, she was energised that morning without the need for coffee. She was on purpose. Ready to make a difference. Furthermore, ready to make her guests feel welcome and set up a great learning environment.
As Claude Silver, Chief Heart Officer at VaynerMedia says, 'your energy introduces you first.'
What gives you energy?
Therefore, in the Coaching Café this week we focus on the practice of Energy.  Particularly how to answer the questions: 'how do I energise my people?' Or alternatively 'what to do about the 'quiet quitting' people?'
One of the best questions we can ask in response is 'what gives you energy?'
Alternatively, where do you get your energy from?
Asking these questions is a chance for self-reflection. What are the tasks or activities that really energise me?  We talk about this in our strengths-based leadership coaching workshops. Importantly, it's a conversation that we can have with our team.
The practice of energy
What Makes a Great Coach? gives us the opportunity to reflect on our own coaching practices.  In the book we share the research and stories around energy from the book.  And most importantly key questions that we can all use to reflect on how we energise people.   You can start with the questions in this blog.
One coach, who epitomises someone with energy you are drawn to, is Michele Krause. Michele is the architect and cofounder of the Cardio Tennis program. Michele says what makes a great coach is 'someone who is positive, enthusiastic and energetic.' Importantly, she also offered:
When you love something so much and you are bringing that energy, you can transfer it to others. Allowing them to take it in. So that the energy can be reflected in one another.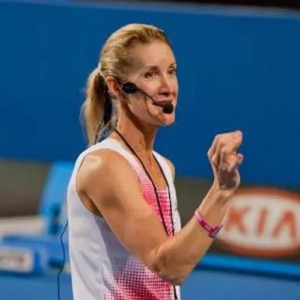 Michele Krause
Open Door Coaching
Have you got your copy?
It's official! What Makes a Great Coach? has hit Amazon #1 Best Seller multiple categories.
We are so grateful for your support, messages and for helping us celebrate.  Pick up a copy or contact us if you want multiple copies and to access the special offers.
FREE Coaching Cafe Webinar
Every week our team of experts present "Coaching Cafe" webinar with topics for Managers, Leaders, Business Owners, and everyone who wants to be a better workplace coach, leading their teams to higher productivity, better outcomes and a happier, healthier workplace.
Join us this Friday for FREE.   Register now.